Swing Into Spring at the
Mad Robin Romp 2018
Friday through Sunday
4-6 May, 2018
Basic admission only $55     ($65 after 10 April)
Spring Dance Weekend in the
Spacious upper floor in the main Lodge at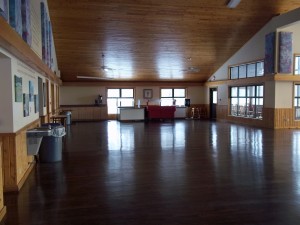 Featured Caller:
Alexandra Deis-Lauby
(from New York)     Alex called extensively in the Midwest when she was a student at the University of Chicago and working at the Museum of Science and Industry, and now is a sought after caller on the east coast.
Featured Band:

Countercurrent (Alex Sturbaum & Brian Lindsay)
(from Seattle)     You may remember them when they played here with the Oberlin Ohio based band Gallimaufry.  Since 2015 they've been playing their blend of Irish & traditional American, with modern influences, for contradances and festivals up & down the west coast.
INCLUDES:
Dances Friday and Saturday night
Workshops Saturday
Light Brunch Saturday
Pot Luck Dinner Saturday evening
Continental Breakfast Sunday
Heated showers
Wildflower hikes in the surrounding woods
Children 12 and under are FREE
Camping in tent or vehicle or on floor of Lodge is included with registration
BEDS in MODERN CABINS are $35 (for the whole weekend) while they last. Bring your own sleeping bag or bed linen.
Preregister early to guarantee your choice & $ave.
Make checks payable to BOTMDG, PO Box 3238, Bloomington, Indiana 47402.
Include E-mail or phone number to receive confirmation and updated info.
Priority of requests for beds is based on date registration form and check are received.
You can now Register Online!
SCHEDULE OF EVENTS
FRIDAY:
8:00pm – Midnight: Contradancing  with Alexandra Deis-Lauby  & Countercurrent
Midnight –  ??: Contradancing with Open Calling and Open Band
SATURDAY:
9:00am – 1:00pm: Brunch
9:00am – Yoga with Priscilla Borges
9:00am – 10:00am: Open Waltzing,
11:00am – Noon: Workshop – Waltz with Randy Hammond
10:00am – Noon: Wildflower Hike
1:00pm – 2:30pm:  Workshop –  Contra Flourishes with Alex Deis-Lauby
2:45pm – 4:15pm: Workshop – Complicated Contras with Michael Hamilton & Countercurrent
4:30pm – 5:30pm: Rise Up Singing
6:00pm – 7:30pm: Pot-luck! Main dishes to be served at 6:30.
8:00pm – Midnight: Contradancing with Alexandra Deis-Lauby  & Countercurrent
Midnight –  ??: Contradancing with Open Calling and Open Band
SUNDAY:
9:00am – 12:00pm: Breakfast and Clean-up
9:00am – 11:00am: Open Waltzing with  Entwyned
Schedule subject to change.
After the scheduled bands and caller, many more musicians and callers are needed to keep the music going well into the wee hours, so BRING YOUR MUSICAL INSTRUMENTS.  You don't have to be in "a band" to participate. Many pick-up bands are formed while hanging out during the day or on the spur of the moment late at night.
Everything is very laid-back and relaxed except for the high-energy dancing. Kitchen facilities are available to prepare your contribution to the Saturday pot luck. Bring a warm sleeping bag or plenty of blankets. (If you're using the extra cost bunks, note that the bunks have mattresses but not sheets or blankets.  If you are camping, don't forget an air mattress or sleeping pad.  Some mattresses for use in the basement of the Lodge may be available on a first come, first served basis.)
All this for the whole week-end for only $55!      ($65 after 10 April)
Here's the ala carte pricing:
$15 Dancing one night
$30 Dancing one night plus overnight camping* and breakfast
$35 Dancing Sat. night plus workshops and pot luck
$40 Dancing Sat. night plus workshops, pot luck, overnight camping*, & breakfast
(Ala carte registration is available on site or by mail, but not on the web.)
* Camping includes sleeping in tents, in vehicles, and on the floor of the Lodge (but not on the floor in bunkhouses).
Bunks are $35 per person for two nights.  Bunks have mattresses, but bring your own bedding.
LOCATION:
Camp Pyoca is near Brownstown, Ind. off US Hwy 50, about an hour east of Bloomington, or an hour north of Louisville, or a bit over an hour east of Cincy, all on good roads. We have DIRECTIONS  to help you find your way.
We will be dancing in the spacious main Lodge.
Camp rules: No Pets, No Alcohol.