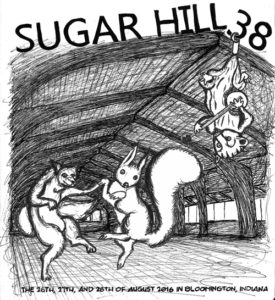 The 39th Annual Sugar Hill will be 25-27 August 2017!
Friday evening to Sunday noon. Just outside of Bloomington, Indiana at the lovely Ransburg Boy Scout Reservation.
Sugar Hill Registration Form 2016!
(Last year's logo.  2017 logo will be released in the spring.)
Sugar Hill 2016 Workshop Schedule
DANCING, DANCING, & MORE DANCING!
A celebration of contradance in a serene setting!
Camping in the Indiana forest
Swimming, water slide, canoeing, and relaxing
Great meals & snacks all weekend
Everyone helps! It adds to the fun & reduces the cost!
LIMITED BUNK SPACE AVAILABLE at extra cost! Modern and rustic cabins. Don't forget that there's also unlimited camping space at no extra cost!
PURCHASE A T-SHIRT — Check out our t-shirt design and order now!
LOW COST!! Register early to save $$ & speed registration, and help us know who's coming. These were 2016 prices:
$35 through 10 August ($10 under age 14)
$45/$15  after 10 August (including at the door)
A la carte pricing:

Friday

 dance: $12

Saturday

 dance: $12

Friday

 night camping: $7

Saturday

 lunch/workshops/etc: $7

Saturday

 dinner: $7

Saturday

 night camping: $7

Sunday

 brunch: $7
Bring your entire family – but not your pets
PRELIMINARY SCHEDULE:
FRIDAY
6:00pm Potluck
8:00pm-???? Contradancing
see tentative Workshop Schedule SH2016 (not available yet)
8:00am-6:00pm Brunch, Workshops, Swimming, Canoeing, Beach party
6:00pm Dinner
8:00pm-???? Contradancing
SUNDAY
8:00am-Noon Breakfast
Included in the price
CAMPING in scenic Ransburg Boy Scout Camp on beautiful Lake Monroe
ACCESS TO SHOWER & MODERN REST ROOMS (primitive restrooms at campsites)
MEALS & SNACKS: Friday Potluck & Snacks; Saturday Brunch, Dinner, & Snacks; Sunday Breakfast
CHILDCARE (if their parents volunteer for the shifts)
Everyone volunteers!
CALLERS: Bring your favorite dances!
MUSICIANS: Bring your instruments!
PARENTS: Sign up for a childcare shift!
EVERYONE: Sign up to help with meal preparation, clean up, and beach watch!
Please bring your own:
tents
bedding
flashlights
swim suits & water toys
towels, soap, shampoos, bug repellant, etc…
dancing shoes (wooden floor)
CAMP RULES: NO ALCOHOL! NO PETS!
Sugar Hill Registration Form 2016
Questions?
Our 2016 coordinators are Liz Pech and David Ernst.
Write to them at sugarhill@bloomingtoncontra.org
See you there!