(Updated January 2022)
Weekly dances are Wednesdays, 7:30-9 p.m., at Harmony School, 909 E 2nd St. in Bloomington, IN. Dances are open to fully vaccinated* members (proof of vaccination required) and are run by donation. You can become a member or make a donation today! These dances are not broadcasted on Zoom (sorry!).

Please see the BOTMDG newsletter, Google calendar, or Facebook page for details. If you have questions or would like to sign up for the newsletter, contact us.
---
*Fully vaccinated, as of January 2022, means that you have had every dose you qualify for. This means that if your 2nd dose of a Pfizer or Moderna vaccine was at least 6 months ago or your single dose of a Johnson & Johnson vaccine was at least 2 months ago, you will need to show us evidence of a booster shot as well. Thank you for helping to keep us all safe.
---
BOTMDG is dedicated to fostering the growth and development of Old Time musicians, callers, and dancers in a nurturing and friendly atmosphere. We are a non-profit organization based in Bloomington, Indiana, that is run entirely through the efforts of volunteers — your help is always needed and welcome!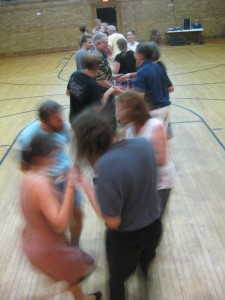 We sponsor a contra dance every week and several special dances throughout the year.  All dances feature live music (Old Time, New England, and Irish dance tunes). Callers lead mostly contra dances, with some squares, mixers, and other dances forms as well. This type of dance has a devout and enthusiastic following around the world.  BOTMDG is one of the oldest groups of its kind in the country, and has danced every week since the group started in 1972.
---