Weekly dances are normally in the Harmony School Gym.  The gym is on the west end of the school.  Enter from the parking lot which can be accessed from Hunter Street (a block south of Atwater St.) , just east of Woodlawn St.  In July and August weekly dances are usually at the Boys and Girls Club, 311 S. Lincoln (just south of Third St.).
            Mad Robin Romp – Friday through Sunday 28-30 April  – Calling by Josiah Roberts from Lexington, Ky and music by Heat Advisory (Dianna Davis from Indy, and Deborah & Karl Colon from Yellow Springs, OH.)  This year we'll be at the same beautiful camp we had last spring with a wonderful dance floor:  Camp Pyoca near Brownstown, Indiana.  http://bloomingtoncontra.org/mad-robin-romp
Camp Pyoca is near Brownstown, Ind. off US Hwy 50, about an hour east of Bloomington, or an hour north of Louisville, all on good roads. We have DIRECTIONS to help you find your way.
The 39th Annual Sugar Hill will be on August 25-27, 2017. Save the date!
Announcements and Detailed Dance Calendar
BOTMDG is dedicated to fostering the growth and development of Old Time musicians, callers, and dancers in a nurturing and friendly atmosphere. We are a non-profit organization based in Bloomington, Indiana, that is run entirely through the efforts of volunteers — your help is always needed and welcome!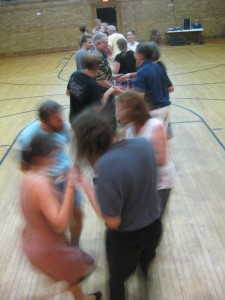 We sponsor a contradance EVERY WEDNESDAY  evening (no exceptions!) and several special dances throughout the year.  All dances feature live music (Old Time, New England, and Irish dance tunes).  Callers lead mostly contradances, with some squares, mixers, and other dances forms as well. This type of dance has a devout and enthusiastic following around the world.  BOTMDG is one of the oldest groups of its kind in the country, and has danced every Wednesday since the group started in 1972.
---