(statement updated June 2, 2020)
The weekly Wednesday in-person dance has been suspended until further notice, in the interests of everyone's health and safety. We are now getting together every Wednesday online; please see the BOTMDG newsletter or our Facebook page for details. If you don't have access to either of those, please contact us.
If you haven't been to one of our online events, you might be wondering what to expect! As our musicians play for us, and (sometimes) the caller calls, you are welcome to dance with us in your own space,* play along with the musicians with your mic muted, or just watch and listen. We also try to check in with everyone briefly each week. The music lasts until about 8:45 followed by the check-in. Some people stick around after that just to chat.
*Waltzes are easy to dance alone or with a partner. Up-tempo tunes will sometimes have contra-like calling, but for the times when there is no calling, please feel free to dance along at home with contra moves of your choice.
Please consider contributing to a fund to help pay our callers and musicians who are continuing to keep our community going in these strange times. Thank you for helping us let them know how important they are to us!
---
Weekly dances are normally in the Harmony School Gym.  The gym is on the west end of the school.  Enter from the parking lot which can be accessed from Hunter Street (a block south of Atwater St.), just east of Woodlawn St.
Announcements and Detailed Dance Calendar
BOTMDG is dedicated to fostering the growth and development of Old Time musicians, callers, and dancers in a nurturing and friendly atmosphere. We are a non-profit organization based in Bloomington, Indiana, that is run entirely through the efforts of volunteers — your help is always needed and welcome!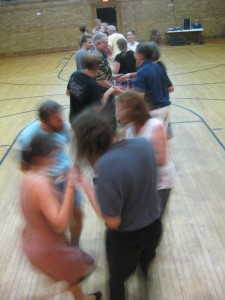 We sponsor a contra dance EVERY WEDNESDAY  evening (no exceptions!) and several special dances throughout the year.  All dances feature live music (Old Time, New England, and Irish dance tunes).  Callers lead mostly contradances, with some squares, mixers, and other dances forms as well. This type of dance has a devout and enthusiastic following around the world.  BOTMDG is one of the oldest groups of its kind in the country, and has danced every Wednesday since the group started in 1972.
---